Hari Om!

Thank you so much for taking the  time to check out my website.
JOIN JAI AND I
FOR AN SPECIAL
WORKSHOP
BREATH AND SING
INTO SURRENDER
Sunday ~  Date: Dec 22, 2013 From: 7:00 PM - 9:00 PM
Nubia approaches breathing techniques as a tool to develop a connection to spirit within us and around us. Blending her background in Hatha and Bhakti (devotional) Yoga, mantras, and open-heart meditations, She reminds us that our breath can become our prayer of reconnection to the Divine.
Live music by world renowned musician Jai Uttal. Our inner journey with blossom with sacred music and chanting which will nourish our spirits and invite the qualities of the heart to shine.In this beautiful offering Nubia and Jai will share their love for each other and for these ancient practices. Come celebrate the life force within and around with your yoga community.Prana, the vital energy present in the air that we breath is what links our inner and outer environments. This same force interconnects us with all of creation.Through our conscious breath let us offer our healing light to all beings and recognize the sacred in ourselves and in all the manifested worlds. May our breath be our prayer.
Pre-register: $40 Yoga Mountain Members and $45 Regular, or $50 at the door.
SIGN UP
 http://yogamountainstudio.com/workshops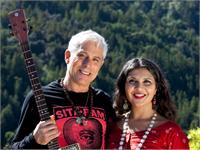 JUST A FEW SPOTS LEFT!!!!!!!!
NEW YEAR'S RETREAT NUBIA&JAI 203/14
A WOMEN'S RETREAT & THE ART OF TEACHING YOGA
with Nubia Teixeira
February 22nd – 26th at Harbin HotSprings, California.
A Yogini Slumber Party for Spiritual Growth.
Imagine opening your eyes to soothing tea, a Morning Prayer session, a Pranayama/ Asana Yoga Practice and a plunge in Harbin's natural spring waters.
Enjoy daily naps, journaling and Lydia's Organics healing foods. If you wish, take part in an optional afternoon Yoga Teaching practice or simply relax amongst the nature.
In the evenings we will gather for some warm soup, inspiring movies on yoga, anatomy studies and arts & crafts. We will close our day by observing silence and dream until morning.
Let's gather as women and dive into the art of yoga. Join us!
7am – Tea & Prayers
8am – Light Breakfast
9am – 12noon: Yoga Practice and AsanaTips
12:30 – 1:30pm: Lunch
1:30 – 2:30pm: Nap / Break
3:00 – 6pm: The Art of Teaching Yoga and Choreographing
6:30 – 7:30: Soup
8pm: Movie / Arts & Crafts / Sharing Session
10pm – 6am: Quiet Session – Mauna(observing silence) / Sleeping / Dreaming / Meditation
Retreat includes:
7 to 9 hours of Daily Yoga in all of its forms
Access to the Hot Springs and Harbin Facilities
3 daily meals of nurturing and detoxifying foods by Lydia's Organics
Time for introspection and learning
Check in at 12:30, February 22nd – We'll have a reception with Lunch
Check out at 1:30pm, February 26th
Lodging: camp outdoors (tent or car) or slumber party style (sleeping ladies in the yoga room!)
Price Options:
$880.00 Christmas Gift – paid in full by December 22nd
$1,008.00 Early Bird – paid in full by January 22nd
$1,200.00 paid after January 22nd
Sign up at:
nubia@bhaktinova.com
Testimonial
The first class I went to with Nubia focused on heart opening. At the end, I found myself in Shavasana listening to her beautiful chanting with hot tears running down my face into my ears… I knew a healing process had begun. Nubia's teaching style and experience inspire me to want to take my practice deeper. I find her classes to be very deep and playful at the same time. Her stories and visualizations are inspirational and her instructions are very clear and easy to understand and follow. Nubia also focuses a lot on breath-work, which I have found to be very beneficial.
With her guidance I started to make small breakthroughs in my own practice and learning about the nuances and beauty of each pose and taking them deeper. I also found that Yoga has helped me to open my heart, physically, emotionally and spiritually. Yet, what inspired me most was that I noticed everything Nubia seemed to do (singing, dancing, Yoga) had a devotional aspect to it, what a beautiful concept! When she teaches, I see her as a conduit of light and love and a reminder that we too can be the same and carry that mindfulness through our busy daily lives. And the physical benefits? I feel stronger and less tense and my knee and hips are not bothering me as much and I have actually grown ¾ of an inch!!! True story!
When I look at Nubia I think, "I want to know what she knows!" When I learned of her Bhakti Nova Yoga Immersion I almost ran to the front desk to sign up. What a treasure, an invaluable gift. I feel so lucky to have the opportunity to learn from someone so devoted and special and I know I will take these teachings with me throughout the rest of my journey. I am SO looking forward to the immersion!
Join Nubia Teixeira in a heart opening journey of reconnection with the spirit. Combining conscious breath, voice, dance, emotion, and the body-movements of Hatha Yoga and Indian Temple Dance, we will awaken the cleansing fire within and create a space of grounding, healing and joy.
NAMASTE BERKELEY – ILoveNamaste.com
2820 7th Street. Berkeley, CA 94710
Tuesdays • 10 – 11:30am • Heart Flow , All Levels.
NAMASTE YOGA AT ROCKRIDGE/OAKLAND -ILoveNamaste.com
5416 College Ave, Oakland
Thursdays • 10 – 11:30am • Heart Flow , All Levels.
YOGA MOUNTAIN/FAIRFAX – www.yogamountainstudio.com
85 Bolinas Road, Fairfax
Mondays and Fridays • 9:30 am – 11 am • Levels 2 – 3
YOGA WORKS, LARKSPUR LANDING - www.yogaworks.com
2207 Larkspur Landing Circle Larkspur, CA 94939
Mondays and Wednesdays • 6:15 – 7:30 pm • Vinyasa Flow Levels 2-3
Tuesdays and Thursdays • 12:45 – 2 pm • Yoga Blend, Level 2
NUBIA IS OFFERING PRIVATE SESSIONS AT YOGA WORKS !
Try her "Hands-On"  Yoga-Reiki-Thai Massage
Private Classes, contact: stephaniem@yogaworks.com
If you have been wondering how it would feel to enter your asana and be supported by Nubia's wise and healing hands, you should schedule a class right now. The intention of this private session is work with alignment , explore new places in the body and deepen your practice by adding the element of hands-on adjustment.
Meeting Nubia
Astrological Sign: Sun – Cancer / Raising – Virgo /Moon- Scorpio

Ayurvedic Dosha: Kapha – Pita.

Describe the very first time you were ever introduced to yoga – I was introduced to yoga 24 years ago in Brazil and I was taken in such a way by this ancient practice that two years later I was teaching yoga at the age of 18.

How long have you been practicing for? For 24 years.

What are you currently working on in your personal practice? I am taking privates from Maritza, continue studying/practicing classical indian dance with Vishnu Tattva Das and studying the work of Clarissa Pinkola Estes, PhD.

Do you have any projects in the works you want us to know about? I am working on writing a manual for the FIRST BHAKTINOVA TEACHER'S TRAINING for the fall of 2013.

What originally made you want to become a yoga instructor? A deep feeling (certainty) that it was a continuation of my dedicated work in the past life and a deep feeling (certainty) that been at service to others thru yoga was my gift.

How long have you been teaching for? 22 years

What do you love about teaching now? The exchange with the beautiful dedicated students that come to my classes. The opportunity that I have to learn  from teaching to so many different practitioners with so many different needs. To come fresh to a class, empty canvas, and witness the many colors that shine thru, pose after pose, breath after breath, an ancient mandala of art.
10. What is your favorite or least favorite pose? favorite – raja kapotasana….least favorite – ardha chandrasana……
11. What has been your most unexpected experience since becoming a yoga instructor?  That my passion would bring so much prosperity into my life. So many friends. A worldwide community/family. My beloved soul mate and my son.
12. What is your process of planning a class like?  For the first years I used to plan a class, but for the past 15 years or so…. I just show up and breath and let spirit take over. The foundation and knowledge are there, been present to the moment, inspiration and creativity shape my class.
13. What is a quote, mantra, or affirmation you have used and would like to share? Is there a story behind its personal meaning to you?
By the Grace of the ancient sages and saints we were given the gift of yoga . A garland of many different practices that have the intention to awaken body, mind and spirit. To those that came before me, I offer my  humble reverence and express my gratitude. By following their steps with integrity and devoting myself to serve others, I show up everyday in front of the altar of my heart and scream out loud in song: please take me….